Commercial Audio Video (A/V) Solutions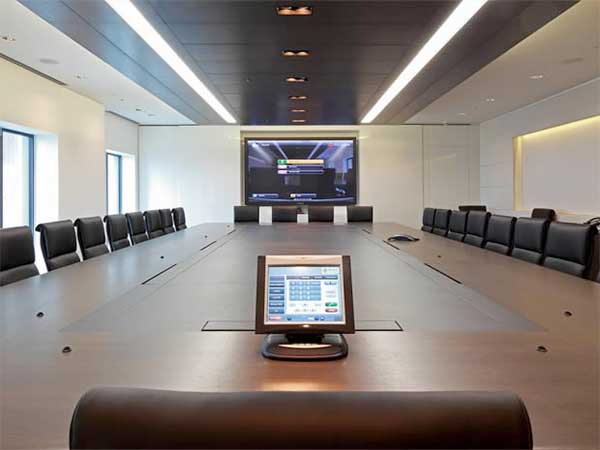 You take pride in your store. You've paid close attention to the mood setting details that distinguish you from your competitors. You've built loyalty with your customers. You've created an atmosphere for your store, but is it all it can be? Creating an inviting atmosphere helps convince customers to stay in your store. That's where commercial audio and video come in.
"The key is to have all of the senses – sound, vision, smell and touch – in sync" says Fred Robinson, manager of store planning and design for Edison Bros. Stores.
High quality sound is an essential part of creating an inviting retail atmosphere. More so, it helps bring in new sales. Research shows that customers remain in a store longer when the music is pleasing, compared to when the music is abrasive. Think of having high performance sound as having another edge over your competition. Modern technology takes in-store audio up to the level of high fidelity home and professional systems. Manufacturers like Bose, Tannoy, QSC, JBL and EAW utilize advanced technologies to raise the bar even higher! Don't let poor sound quality undermine your tailored atmosphere. Muzeek World brings high quality audio into your business with endless design possibilities. We have the tools and experience necessary to provide commercial audio, video and lighting solutions. Let us help you create a unique atmosphere that will give you a competitive edge.
Digital signage (DS) is becoming an increasingly important feature of public spaces like airports, shopping malls, conference centers, retail spaces and entertainment arenas. DS can perform multiple functions in a single device. It can deliver information and directions, display advertising and sponsor messages, add to the atmosphere and provide various forms of entertainment. DS technology is great for live events too! It can give you an effective platform to act as a conduit for viewer participation. These services can be used to create a sense of community and involvement at conferences, tournaments, festivals and other events. We understand the dynamic possibilities of video and how it can contribute to the overall atmosphere of a commercial location, which is why we offer a full line of video solutions that include LCD displays, projectors, projection screens and multiple Digital Signage options.