Yorba Linda Retail Audio Visual Solutions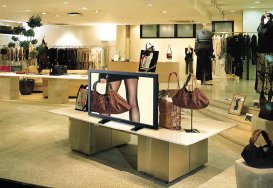 Request A Retail A/V Quote
Let Muzeek World bring your retail store into the modern age with in-store marketing! This fast growing and influential form of advertising is the leading edge way to grab your customer's attention. Traditional posters and print media simply cannot compete. We offer a range of services including design consultancy, component integration and system installation. Our technicians are well-qualified and will train your team on how to use these systems. We are based in Riverside County near Corona CA although we serve retailers all over America.
Yorba Linda Retail A/V Design Consultancy
With years of experience and an unmatched attention to detail, your Muzeek World technician will ensure that your system is properly installed to maximize the benefits to your retail store. We will guide you step-by-step through the conceptualization and design of a sound systems that work best for your store. The placement of monitors and speakers are vitally important and our team knows just where to install them. We will design and install an audio and visual solution to emphasize your products and in-store specials to maximize sales.
Implementation of Acoustics
Depending on the layout of your retail store, acoustics can be a struggle. At Muzeek World, we ensure that our clients have the best acoustics possible. We will provide your retail store with very clear sound quality and we combine our knowledge of acoustics with great computer models and designs to produce acoustic performance suited to your retail needs. We also eliminate hollow spaces, dead spots and latent echoes to provide your customers with an enjoyable shopping experience complete with background music to enhance their mood and make their journey through your store as enjoyable as possible.
Component Integration
We provide a wide range of retail audio/visual solutions that include commercial sound systems and background music. After the design process has been completed to your satisfaction, our team will integrate the various components and bring together a solution that works in harmony. Your customers will be amazed with the seamlessness of the system and your team will be properly trained to use the system in order to create the harmonious environment that inspires your customers to continue shopping and follows them all the way to the point of sale.
Yorba Linda Retail System Installation
We install systems for you at affordable prices. These systems include:
Yorba Linda Retail Sound System
Our sound system provides you with the clearest sound quality available. Our team knows how to use the design of your store to maximize the sound quality of your system. We use existing acoustics, or add acoustics if needed, to ensure the most pleasurable ambience for your customers and staff.
Yorba Linda Retail Video Components
Retailers, whether big or small, need video systems to improve the experience of their shoppers. People are visual and a system that captures their attention is the best way to ensure that your message comes across.
Why choose us?
- We have been in the audiovisual business for quite some time now so you can be sure that our technicians know what they are doing.
- We offer all the above services as a package cutting down the costs involved in hiring many companies.
- We provide excellent customer support. Our techs are on hand to help train your production team and answer any questions you have.
- We are accessible to all areas of the country. We are ready to cover the miles to cater to all your audiovisual needs.
- We promise excellent service at every step of the process.
Our services are here to help you achieve audio-visual excellence in your building or buildings. The modern business looks nothing like the business buildings of even ten years ago. The modern business of today has lights, sound, and different platforms for product and service showcasing. We are here to help you with your growing needs for Retail Audio Visual Solutions.
Read more